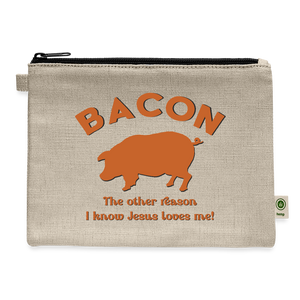 I may be vegan, but Romans 14:3 tells us, "The one who eats everything must not belittle the one who does not, and the one who does not eat everything must not judge the one who does, for God has accepted him."  So, God bless the carnivores!  And, it makes for a pretty good chuckle.
This versatile hemp pouch can hold anything from toiletries or makeup to pens and pencils or art supplies. Made with an eco-friendly blend of hemp and cotton.
55% Hemp / 45% Cotton
Contrast zipper
Hemp flag tag
9" wide x 7" high
Imported; processed and printed in the U.S.A.
| | A | B |
| --- | --- | --- |
| One Size | 7.1 in | 9.1 in |
Don't forget to check out the Women's, Men's, and Kids' collections.
OUR GOAL IS HAPPY CAMPERS!!!  We have great confidence in our suppliers and printers, they do a fantastic job.  And, things happen.  Because your items are created just for you, shipped directly to you, we don't get to see them first.  If for any reason there is an issue, please reach out.  We'd be happy to help.

All designs, © LLLegacy, LLC.  Thank you!
All graphics and fonts used with appropriate licensing and permissions.