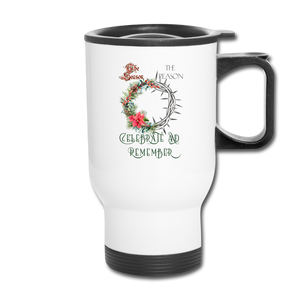 As wonderful as lights, generosity, traditions, and time with loved ones may be, sometimes we need a gentle (or not so gentle) reminder of the path from manger to resurrection. In the midst of the whirlwind that carries us from Thanksgiving through the New Year, I pray the Peace that passes all understanding and the light of the Bethlehem star reign over each tradition, each moment, each memory.
We're an on-the-go society. We eat on-the-go, we work on-the-go, we grab and we run. This travel mug, printed on both sides, is the ideal companion for the "on-the-go" in you. Good for hot or cold beverages, this mug will keep up with the breakneck pace of your day. 
Made of stainless steel, rubber, and plastic 
Mug volume: 14 fl oz
Close-able drinking cap
Travel mug IS NOT dishwasher safe
Perfect for both hot and cold drinks
Imported; processed and printed in the U.S.A.
| | A | B |
| --- | --- | --- |
| One Size | 5.98 in | 2.99 in |
Don't forget to check out the Women's, Men's, and Kids' collections.
OUR GOAL IS HAPPY CAMPERS!!!  We have great confidence in our suppliers and printers, they do a fantastic job.  And, things happen.  Because your items are created just for you, shipped directly to you, we don't get to see them first.  If for any reason there is an issue, please reach out.  We'd be happy to help.

All designs, © LLLegacy, LLC.  Thank you!
All graphics and fonts used with appropriate licensing and permissions.