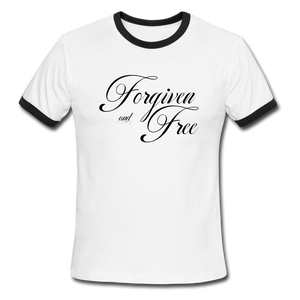 Our perfect Creator created us human. I'm sorry to say, we drop the ball every day.

* The good news is, He knew He made us flawed and He had a plan.
* The good news is, His mercies are new every morning.
* And, the good news is, you are Forgiven and Free.

May you walk in freedom, truth, comfort, and assurance every moment of each and every day as you endeavor to be the child He created you to be.
Put a little retro style in your wardrobe. The binding sleeves and collar contrast add a touch of color to a classic style. With a snug, comfortable fit and soft-combed jersey cotton, our ringer T-shirt brings a vintage feel to your everyday wear.
Fine 100% jersey cotton
Fabric weight: 4.3 oz (lightweight)
Fitted sleeves and collar
Double-stitched cuffs, collar, and waist
Imported product, processed and printed in the U.S.A.
normal fit
| | A | B | C |
| --- | --- | --- | --- |
| S | 26.97 in | 18.98 in | 7.48 in |
| M | 28.98 in | 19.49 in | 7.72 in |
| L | 30.00 in | 21.97 in | 8.46 in |
| XL | 30.98 in | 22.48 in | 8.98 in |
| 2XL | 31.97 in | 24.49 in | 9.49 in |
Don't forget to check out the Women's, Kids', and Odds-N-Ends collections.
OUR GOAL IS HAPPY CAMPERS!!!  We have great confidence in our suppliers and printers, they do a fantastic job.  And, things happen.  Because your items are created just for you, shipped directly to you, we don't get to see them first.  If for any reason there is an issue, please reach out.  We'd be happy to help.

All designs, © LLLegacy, LLC.  Thank you!
All graphics and fonts used with appropriate licensing and permissions.