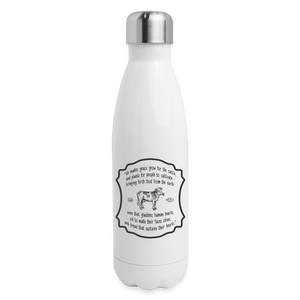 May farmers, ranchers, and rural lovers of all kinds smile and find great joy in the blessings expressed by this excerpt from the Psalms… and beautiful grazing Bessie, of course.  :)
"He makes grass grow for the cattle, and plants for people to cultivate - bringing forth food from the earth, wine that gladdens human hearts, oil to make their faces shine, and bread that sustains their hearts." ~ Psalm 104:14-15
Whether you're in a lecture hall or hiking rugged trails, this water bottle will keep you quenched on all occasions. Features a sleek design and double-wall insulation, printed on both sides.
100% Stainless Steel 
Volume: 17 fl. Oz.
Not suitable for dishwasher, freezer, or microwave; hand-wash only
BPA & Phthalate free
Imported; processed and printed in the U.S.A.
| | A | B |
| --- | --- | --- |
| One Size | 10 in | 2.8 in |
Don't forget to check out the Women's, Men's, and Kids' collections.
OUR GOAL IS HAPPY CAMPERS!!!  We have great confidence in our suppliers and printers, they do a fantastic job.  And, things happen.  Because your items are created just for you, shipped directly to you, we don't get to see them first.  If for any reason there is an issue, please reach out.  We'd be happy to help.

All designs, © LLLegacy, LLC.  Thank you!
All graphics and fonts used with appropriate licensing and permissions.