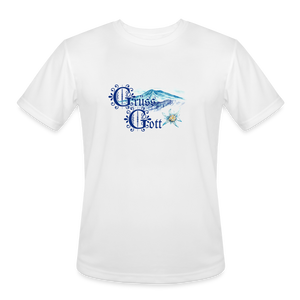 Often to be heard in Bavaria, among other places, Grüss Gott is a customary greeting used simply to say hello. Taken at its actual meaning, however, it means Greet God. What a wonderful thing to say to each other as we walk down the street. Explain it to the world, or keep it as a secret close to your heart. Either way friend, may you greet Him daily and may you be blessed with the ears to hear His customized reply, now and always.
This performance tee has everything you need when looking for the perfect workout gear. It's roomy, lightweight, and highly breathable thanks to the moisture-wicking fabrics of the latest PosiCharge technology. With anti-fading features, your color and print are protected wash after wash.
100% Polyester Interlock 
Fabric Weight: 3.8 oz (lightweight)
Roomy and highly breathable
Moisture-wicking with PosiCharge
Anti-fading color and print protection
Imported product, printed & processed in the USA
normal fit
| | A | B | C |
| --- | --- | --- | --- |
| S | 26.97 in | 20.98 in | 10.00 in |
| M | 27.99 in | 21.50 in | 10.24 in |
| L | 28.98 in | 22.99 in | 10.47 in |
| XL | 30.00 in | 24.21 in | 10.47 in |
| 2XL | 30.98 in | 25.98 in | 10.98 in |
Don't forget to check out the Women's, Kids', and Odds-N-Ends collections.
OUR GOAL IS HAPPY CAMPERS!!!  We have great confidence in our suppliers and printers, they do a fantastic job.  And, things happen.  Because your items are created just for you, shipped directly to you, we don't get to see them first.  If for any reason there is an issue, please reach out.  We'd be happy to help.

All designs, © LLLegacy, LLC.  Thank you!
All graphics and fonts used with appropriate licensing and permissions.