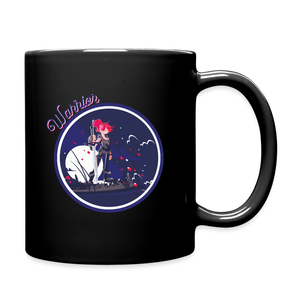 As a warrior of God, we know we have to do our best to forever walk in His way, with watchful eyes and a grateful heart, to also keep our eyes on Him, and our foot on the path He has set for us. Sometimes it helps to label ourselves a warrior of God.  This design will not only do that, but is something of a sermon in itself, to help us remain ever His, ever the warrior…
"You have armed me with strength for battle; You have subdued my foes beneath me."  ~ Psalm 18:39 
"Be strong and let us fight bravely for our people and for the cities of our God. May the LORD do what is good in His sight."  ~  2 Samuel 10:12
"The LORD is my strength and my shield; my heart trusts in Him, and I am helped. Therefore my heart rejoices, and I give thanks to Him with my song."  ~  Psalm 28:7
May you know His strength and serve Him with wisdom and discernment all the days of your life.
A colorful companion for your favorite brew. Good for all types of beverages, this classic mug, printed on both sides, is a great way to make your hot cocoa cool again.
100% ceramic
Capacity: 11 fl oz
Full-color (inside and outside)
Hand Wash Only
Do Not Place in Microwave
Lead & Cadmium free
Imported; printed and processed in the U.S.A.
| | A | B |
| --- | --- | --- |
| One Size | 3.94 in | 3.15 in |
Don't forget to check out the Women's, Men's, and Kids' collections.
OUR GOAL IS HAPPY CAMPERS!!!  We have great confidence in our suppliers and printers, they do a fantastic job.  And, things happen.  Because your items are created just for you, shipped directly to you, we don't get to see them first.  If for any reason there is an issue, please reach out.  We'd be happy to help.

All designs, © LLLegacy, LLC.  Thank you!
All graphics and fonts used with appropriate licensing and permissions.